As we reflect on the past year or so in building Hoppy Girl Brewing dba Turning Waters Back Alley Brewing Co, we want to say THANK YOU!  Thank you to everyone who believed in us, doubted us, persevered with us, encouraged us and most of all fell in love with Ford's amazing craftbeers.  Thanksgiving Day 2017 was the first day we opened as an official craftbeer bar.  It took until St. Patty's Day weekend 2018 to graduate to the next level as a craftbeer brewpub, but still further when we were finally able to brew and sell our own craftbeer.  What a wild ride from nearly seven years ago living in South Florida and dreaming of owning a brewery/brewpub.  We just started our homebrewing on our electric flat top stove in our one bedroom condo in Florida and roll forward to today, we are "living the dream."  A HUGE thank you to John Biever, who did all of our construction and even named his own beer after the infamous Chubby Chipmonk, Pale Wheat Ale.  We now have Skinny Biever, which is a lighter version of Chubby Chipmonk.  Stop in and learn how Chubby got the name and how we named many of our other beers.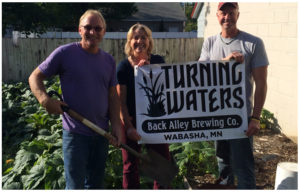 As we embark on our one year anniversary, we want to encourage you to enjoy all we have to offer.  Stay at Turning Waters Bed, Breakfast & Adventure and enjoy having your personal brewpub in the backyard.  We offer a 5 course breakfast and a complimentary glass of beer or wine with each night of your stay.  During Shop Small Saturday, take advantage of our Gift Certificate Sale Offer.  Call Brenda for details of how to get $25 extra goodies at the brewpub by giving the gift of a night(s) stay.
Here is a list of our current events happening this week as well.  Check out all the events at www.wabashamn.org or simply call us.